ELECTRIC Coaching® - Everyday Coaching Skills
ELECTRIC Coaching® - Everyday Coaching Skills
A workshops based course for leaders and managers who wish to enhance their leadership style
What is the course?
We developed ELECTRIC Coaching® to provide essential development for leaders and managers who need to create good relationships and have quality conversations with others at work. This programme has been specifically designed to support operational managers, senior leaders and professional specialists to develop more of a coaching style to improve individual and team performance by adopting a brand-new coaching framework.
ELECTRIC Coaching® is not designed to teach people to be full time coaches, although it may spark an interest that develops in that way for some. It's essentially a mainstream development programme, accessible for everyone.
Why take this course?
Our own experience and delegate feedback show that delegates and client organisations can expect ELECTRIC Coaching® to achieve:
improved working relationships with stakeholders, colleagues, team members, clients and suppliers;
high impact conversations with quality outputs;
clarity of thinking and better use of time compared to before attending the programme.
What do you experience?
This is a very practical 25 hour programme that takes place over about 6 to 8 weeks. It's a blended learning programme that mixes excellent online learning with a two-day skills workshop, 6 hours of coaching conversations in the workplace, more structured reflection and online learning culminating in a final 30 minute telephone assessment.
The 2 day workshop really brings to life the use of a coaching approach through a series of demos, group discussions and practical sessions, culminating in an assessed observed session where candidates have to demonstrate they can hold an effective coaching conversation. We provide delegates with learning on the core skills of listening, asking questions that get people to think and giving challenging feedback. Our coach facilitators are all qualified coaches, their role is to assist with skills development, to support, challenge and give helpful feedback.
Why is it assessed?
The course is accredited at Foundation level by the European Mentoring and Coaching Council, one of the largest professional governing bodies for coaching . The assessment process is light touch yet rigorous; it ensures the newly developed skills are embedded as part of a leader's natural style creating sustainable behavioural change.   Part of the assessment takes place on the workshop, leaving just a 30-minute telephone call to finish the assessment a short time after the workshop.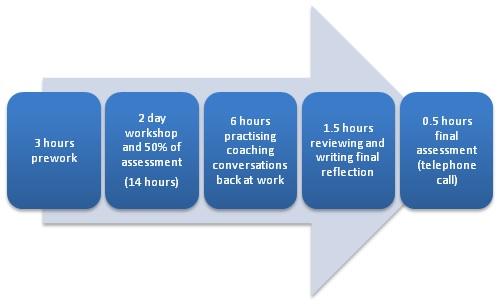 How long: 25 hours of learning over 6 to 8 weeks
For: Leaders and managers inside organisations
Where: Delivered online with 2-day workshop in London or Oxford
Accreditation: EMCC Foundation Level
Cost: £1,350 + VAT for corporate clients or £1,200 for privately funded individuals, public or third sector clients
It has enabled me to understand my weakness and how I can improve them, it has made me aware of how important self-reflection is and I now make time to do this.

Kirsty Blunn, Senior MI Analyst, Pension Protection Fund
The framework then encourages commitment to review specific actions over time to ensure the discussion leaves a pragmatic and lasting legacy – delivering a sought after change for the better.

Senior Manager, global Engineering company
"Amazing! What a clever use of simple tools. Great to really see and experience how the ELECTRIC coaching technique can transform ideas, thinking, management approach and really support others in feeling motivated and taking ownership of their dilemmas."

Senior Leader, global FMCG company
Learning outcomes to achieve EMCC Foundation level
Enhance your coaching skills of listening, asking insightful questions and giving challenging feedback to create high impact one-to-one coaching conversations that provide insight, learning and growth.
Structure a coaching conversation using our newly designed ELECTRIC Coaching® framework appropriately and to good effect.
Effect high quality team meetings by applying a selection of coaching approaches for teams and groups.
Create rapport and trust in workplace coaching conversations.
Reflect for personal growth and assist others in reflection for their development.
Monitor the effectiveness of coaching.
Use a simple development planning approach for self and to assist others to grow.
How do I book and what fees do I pay?
You can book online either by credit card or requesting an invoice.
To make coaching and mentoring more accessible for those with less resources, we charge different rates for corporate clients and those who are privately funded.
For us this means people who work for publicly listed or limited companies pay the corporate rate and  self-funding individuals, anyone in the Public sector or anyone in the Third sector pay the privately funded rate.
Please respect our values and select the right price for you.
We're here to help!
Contact us if you'd like to discuss one of our courses or workshops in more detail. Our team of expert advisers will discuss your needs to make sure you select the right approach for you.