Remote Leadership Essentials
10 hour online programme
Remote Leadership Essentials gives leaders the tools and resources to lead, engage and motivate their teams remotely, as well as manage their own energy and motivation.  These skills will serve them well during changing and uncertain times where working practices need to change and teams need to connect and collaborate in different ways.
---
What do the modules cover?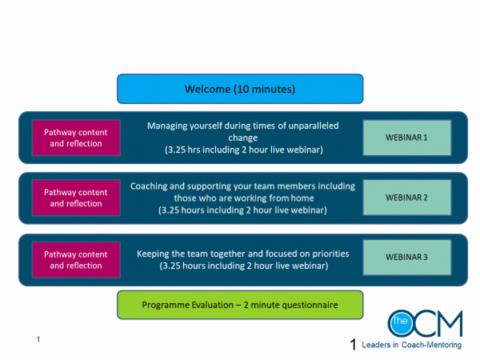 Remote Leadership Essentials consists of 10 hours of learning.  It includes online learning and 3 live and interactive webinars.  It gives leaders skills that they can apply straight away with their teams, so that they can start to see an immediate impact on the people around them.
The core themes from the programme are:
Module 1-  Managing yourself during times of unparalleled change
When change is imposed, it can take time to get our heads around the change itself and then how it will impact on us. This module will help you to focus on how you're responding, and the extent to which you need to adapt – and how to manage and increase your own energy and motivation. We'll help you to process the thoughts and feelings you have about change, the questions arising, the ideas, the fears, the hopes, the possibilities. Change can have a massive personal impact on leaders – so the first module is about you.
Module 2- Coaching and Supporting your team members including those who are working from home
In this module we focus on motivating your team and offer some skills and approaches which can enable good connections and engagement especially when your people are working remotely. We show you The OCM's ELECTRIC model, which can provide a helpful sequence to follow in a conversation so you don't miss anything - it covers both the people engagement aspect as well as talking about work.
We also cover how to focus on work priorities and plans with your individual team members.
Module 3- Keeping the team together and focused on priorities
This final module focuses on communication and specifically being clear about what the team need to be doing and what you need to be doing so that the quality and frequency of communication works well for everyone.
Technology is providing some brilliant solutions to remote working and keeping the team together and connected. The webinar for this module is a great opportunity to share ideas, tips and recommendations with others on all of these things.
---
What problems does this course help you to overcome?
We've designed this short programme to help leaders look after themselves and their teams – to serve them well now and in the future.
Recent years have been very uncertain with a range of challenges facing organisations in all sectors.  Things are even more uncertain than before, and there is even more pressure on businesses with large sections of the economy disrupted.   Remote working is now much more prevalent for many – and teams need to be able to thrive when the usual rituals and conventions of work are disrupted.
So the world has become more complex and uncertain - and many of the usual 'tools' for leadership are unavailable or disrupted.
The risk is that if leaders are unable to navigate this complexity and to lead effectively, then business performance will be even more compromised.
But if leaders are able to operate effectively in this crisis despite the constraints, their organisations will have a real advantage, and will emerge strongly from the crisis.
---
Who is the programme for?
The programme is for anyone who needs to lead others, particularly leaders who are now leading remote teams and where there is a shift in the team's priorities and ways of working.
No experience of coaching or coaching qualifications are required.
---
When does the programme start?
The webinars are on a rolling start date. Please contact us for more information.
Given the fluidity of the current climate, we are running a rolling enrolment system whereby we take bookings until we reach the minimum number of 6 people. We will start the programme the following Wednesday after the minimum numbers have been reached.
If you are considering booking on the programme, please book your place and we will contact you as soon as you have booked to inform you of the current booking situation and likely start dates.
---
Other support available from The OCM
---
How do I book and what is the right price to pay?
Whilst this programme has been designed for any leader or manager who now finds themselves managing others during these times of unparalleled change, it is also potentially of immense value for any essential worker who is leading others during this crisis.
As such, we wanted to recognise the extraordinary efforts all front line leaders are making right now by offering this programme at a significantly reduced rate. If you think this will add value and you can find the time, we want to support you.
If you aren't an essential worker we will charge a fee of £450 + VAT so please choose this corporate rate.
If you are an essential worker then please select the privately funded rate, even if your organisation is paying.
Please respect our values and the essential work being carried out on our behalf by selecting the appropriate rate.
This programme is proving popular with organisations who have groups of managers in need of support. We are able to run this as an in house programme and can tailor content to meet any specific needs..
Please contact Ed Parsloe to discuss any in house implementation.
We're here to help!
Contact us if you'd like to discuss one of our courses or workshops in more detail. Our team of expert advisers will discuss your needs to make sure you select the right approach for you.