A purpose driven organisation
The OCM is, and always has been, a purpose driven organisation. We are individually and collectively steadfast in our desire to make organisations, teams and individuals stronger, more capable and more resilient. We believe wholeheartedly that we will do that by bringing our expertise and understanding of the power coaching and mentoring to you.
From our founding in 1998 we have consistently brought best practice coaching and mentoring to our clients with simplicity and pragmatism.  Whether you are an individual seeking to build your own coaching capability or an organisation looking to integrate coaching and mentoring into your culture, we will put your success at the heart of our relationship.  You'll find us genuinely supportive, and constructively challenging; we constantly seek to make our work and your world better through powerful reflection, targeted measurement and authentic partnership. 
---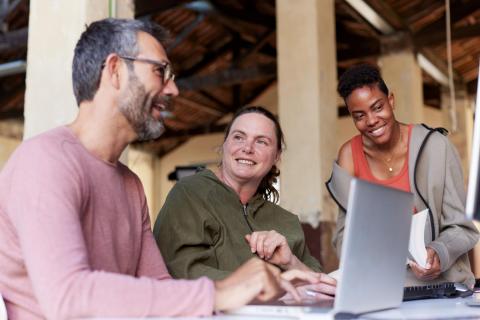 We believe in what we do, and we are driven to make it available to the widest possible range of people and organisations.  For individuals seeking to train as professional coaches we have made the Eric Parsloe Scholarship available to encourage and support greater diversity in our profession (see below to record your interest). Our employed coach-mentors each support at least one pro bono client, a leader in a 3rd sector organisation who would not otherwise have access to world-class leadership coach-mentoring.  And we offer discounts on all of our services and training programmes to public sector, charities and social enterprises.  If you want to know more about any of these, please contact us at [email protected]
We challenge ourselves, and our clients, to recognise and change our perceptions, prejudices and assumptions where they limit anyone's opportunities to grow, or deny others space to flourish. By exploring and relishing our diversity we believe we release our combined capacity to solve problems, and create a better life, better organisations and a better world.
We believe that coaching, and mentoring have the power to transform organizations, enabling their teams and people to be more creative, supportive and effective.  Our purpose is partnering with, and in, organizations to make coaching and mentoring work for our clients. We combine expertise with business acumen to offer a range of services to our clients.
---
Simplicity – making complex ideas simple and using simple tools to address complex challenges
Partnering – to increase capability in our client organisations not to create dependency
Reflective learning – to create broad capability from wide experience and practice
Measurement – so that we can evidence and sustain change in our clients and ourselves
Business acumen & commerciality – so that we understand our client's worlds and can reward our stakeholders and employees appropriately.
Register your interest for the Eric Parsloe Scholarship (next scholarship application process opening soon, click here to record your interest).
Find out more about joining our Team and our Diversity and Inclusion Policy here.