Leaders in coach-mentoring
The OCM Group has shaped the evolution of the coaching profession for over 20 years, since our founding in Oxford, UK in 1998. As one of the first providers of accredited coaching and mentoring training and a founding member of the EMCC, we have been responsible for driving professional standards in the industry.
We are proud to be one of the most respected professional coaching and mentoring firms delivering a diverse range of services to our clients that range from multinationals to local NGO's, across the UK and internationally. We provide coaching and mentoring services to our client organisations, and deliver individual accredited qualifications and training.  This combination gives us a strong understanding of the challenges facing senior leaders; and at the same time, a deep technical understanding with great capability in coaching and mentoring to allow us to find the right solution for you.
OUR BRANDS
Our brands work in unison to provide our clients with an unrivalled range of coaching and mentoring products and services to meet your unique needs and requirements.
OCM CONSULT is the consultative arm of the group that works with senior leaders to support change and maximise potential to make teams and individuals stronger, more capable and more resilient. We recognise the impact that people have on the achievement of strategic business objectives and use our expertise to support our clients' corporate strategy. We help clarify the changes required, quantify the impact that will create and build creatively pragmatic solutions that meet unique needs and contexts. Our expert consultants will partner with you to develop your people as well as design bespoke leadership development programmes to build the behaviours and support the cultural shifts you are seeking to make. 
OCM ENABLE helps catalyse organisational potential and performance, partnering with clients to deliver creatively pragmatic coaching and mentoring solutions. Our experts will work with you to build and sustain authentic and effective leadership and powerfully collaborative teams through the delivery of great coach-mentoring. This brand works closely with OCM CONSULT to ensure the strategy we co-develop is executed through the delivery of high-quality coaching and mentoring implementations.
OCM EDUCATE works with individuals to develop their coaching and mentoring expertise. As trusted experts, we're passionate about best practice in coach-mentoring and provide market leading flexible accredited qualifications and support for those developing as coaches, mentors and supervisors. We use the latest technology to deliver engaging remote and digital learning experiences.
OCM APPRENTICESHIPS is the newest brand in our Group and is a dedicated main provider of apprenticeships, specifically the Level 5 Coaching Professional. This brand engages with our clients to help maximise the use of their apprenticeship levy by developing coaching and mentoring capability to support their strategic objectives.
We are individually and collectively steadfast in our desire to make organisations, teams and individuals stronger, more capable and more resilient. We believe wholeheartedly that we will do that by bringing our expertise and understanding of the power coaching and mentoring to you. Find out more about Our Values.
Our Clients and Customers
We work with client organisations in a broad range of sectors.  About 75% of our work is the private sector where we work extensively with FTSE 350 or equivalent sized organisations but also relish partnering with smaller, ambitious firms to help them achieve their strategic goals and growth plans.  Confidentiality is important to us and to many of our clients, so we don't name them on our site but we have a particular emphasis on Financial Services, FMCG, Retail, Technology, Utilities and Professional Services firms. In the public sector we have extensive experience of working with national and local government, the NHS and a host of charities. Find out more about our Clients and Customers.
Meet Our Coaches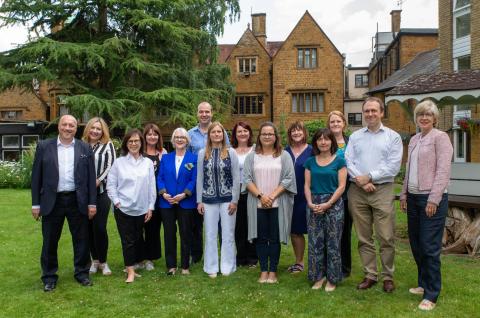 Our team are unquestionably the biggest source of our competitive advantage
Combining world leading expertise with a human touch, we are passionate about helping you harness the transformative power of coaching and mentoring to achieve your goals. All of our coaches have a broad range of specialism and coaching experience. They have each picked a few of their top ones which resonate the most but they all have a wide depth and breadth of experience, knowledge and resource. Find out more about Our Coaches.
Meet our Executive Team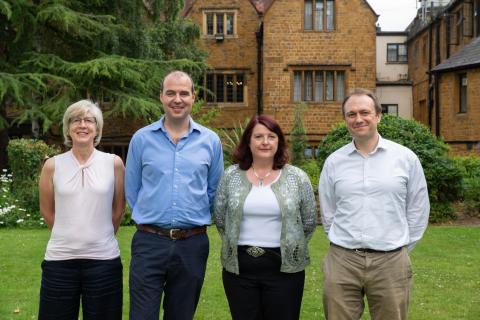 The Executive Team who run the company on a day-to-day basis from left to right consists of:
The Office Team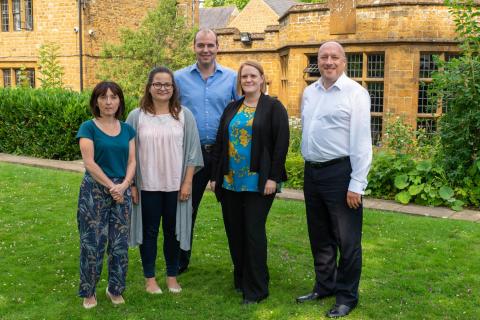 Our main offices are in Deddington, Oxfordshire. Whilst not everyone is based there permanently, they provide a number of roles to support the effective running of the business including from left to right:
Carol Jackson, Finance Director
Deborah Raffell, Client Support Administrator
Rachel Wegerhoff, Training Co-ordinator