Unconscious Bias & Dealing with Difference in Coach-Mentoring
Facilitated webinar 9.30am - 12.30pm. Please see below for the follow up Action Learning Group dates and further information.
Overview of the content:
"If you are human, you are biased" (Ross, 2014). We all instinctively and unconsciously make snap judgements about people we meet. At an unconscious level, we decide whether or not we like someone and whether or not we believe them.  Some of our biases are inherent but many are also learned.  They have developed over time as a mechanism for dealing with difference.  Recognising the presence and impact of these unconscious biases is a critically important development for coach-mentors. 
In this thought-provoking webinar, we explore the elements that contribute to our human reaction to difference – those cultural variations that define and separate us, and consider how our coaching is impacted.
Learning Outcomes:
By the end of the webinar delegates will have:
of bias in their lives and work
around the issue of difference (diversity) and how we deal with it
of their own unique cultural identity and how this might impact their coaching
Gained appreciation of the helpful emotional aspects of being a culturally-intelligent coach
Identified and discussed their own particular challenges coaching in a world of difference working across cultures (in the broadest sense)
Identified and developed specific actions to increase their agility in becoming a culturally-intelligent coach
Recommended Reading
"Everyday Bias" by Howard Ross
 "Blink – The power of thinking without thinking" by Malcolm Gladwell
The optional follow up Action Learning Groups (ALG) will run virtually as follows:
For those attending the facilitated webinar on 21st September 2022, it will be hosted by Amanda Hobbins.  The ALG will be on Wednesday 5th October 2022 from 9.30am - 11.30am.
Please ensure that you put both the facilitated webinar and ALG dates into your diary.  Full joining instructions and pre-work will be sent around a month beforehand.
---
How do I book and what price do I pay?
You can book online either by credit card or requesting an invoice.
To make coaching and mentoring more accessible for those with less resources, we charge different rates for corporate clients and those who are privately funded.
For us this means people who work for publicly listed or limited companies pay the corporate rate and self-funding individuals, anyone in the Public sector or anyone in the Third sector pay the privately funded rate.
Alumni of The OCM should select the Privately Funded rate.
Please respect our values and select the right price for you
---
About the presenter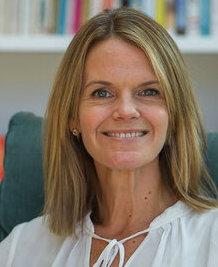 Amanda Hobbins is a Consultant Coach Mentor at The OCM and holds an EIA at Senior Practitioner level.   Amanda brings diverse business experience to her coaching, having worked in senior leadership teams for large companies as well as SME's and start-ups. With a career background in responsive Marketing and Business Development, Amanda has worked closely with clients in Financial Services, Public Sector, FMCG, Construction, Automotive, Academia and Charity. Amanda's coaching clients say that 'her professional skills and experience in diverse fields sets her apart' whilst describing her coaching style as 'intuitive, observant and clear thinking'.
We're here to help!
Contact us if you'd like to discuss one of our courses or workshops in more detail. Our team of expert advisers will discuss your needs to make sure you select the right approach for you.