Working with Royds Withy King
We are currently working successfully with a large law practice, Royds Withy King, to support their future growth and development following a recent merger.
The senior partners wanted to "shift the leadership dial" and create "one team", along with a consistent leadership approach across the organisation. Coaching was identified as the solution.
We worked with the senior partners to create a coaching programme, tailored to the specific requirements of the business, to develop senior executives to maximise their team resources. The challenge was to create the solution in a flexible way to accommodate their high existing workload and the lack of time they had available.
Consultation, delivery and implementation took around 12 months to complete and a significant impact has already been observed both in terms of staff retention and engagement. Every delegate that participated is still employed within the business and there was a success rate of over 85%.
The client is now looking to continue to implement the programme further by rolling it out with other target groups within the organisation.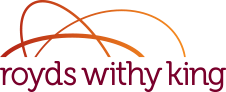 Royds Withy King are highly respected solicitors offering specialist advice to both Corporate & Private Clients.