Building coach-mentoring skills in leaders
Coaching skills for leaders & managers
We believe that every modern leader or manager should develop coaching and mentoring skills, that they can use daily, to the benefit of individuals, teams and their wider organisation.
Developing essential skills for leadership
We believe that every modern leader or manager should develop coaching and mentoring skills, that they can use daily, to the benefit of individuals, teams and their wider organisation.
Building in-house coach-mentoring capability enables your leaders to more readily get buy-in and action on larger organisational initiatives. Direct reports and team members will feel they have a better understanding of what change is required and how they can contribute to achieving your shared goals. Your leaders will be able to effectively hold their teams to account through challenging yet supportive conversations allowing successful delivery of your strategy.
---
Our off-the-shelf and bespoke programmes are well placed to develop the behaviours needed to make your organisation stronger, more capable and more adaptable.
---
ELECTRIC Coaching® is a short, practical and impactful programme.  ELECTRIC Coaching® provides essential tools and skills for leaders and managers, and for anyone who needs to create good relationships and have quality conversations with others at work. Performance coaching is the foundation of this programme.  It's been specifically designed to support operational managers, senior leaders and professional specialists to develop a coaching style that improves individual and team performance.
ELECTRIC Coaching ® is not designed to teach people to be full time coaches. Instead it focuses on helping leaders use coaching skills in a pragmatic, authentic way to improve performance, engagement and collaboration in the people around them.  We teach participants the core skills of listening, asking insightful questions, and giving challenging feedback – and help them balance the levels of support and challenge that they use.
The ELECTRIC Coaching® programme is accredited by The EMCC at Foundation level.
Amazing! What a clever use of simple tools. Great to really see and experience how the ELECTRIC coaching technique can transform ideas, thinking, management approach and really support others in feeling motivated and taking ownership of their dilemmas.



SENIOR LEADER, GLOBAL FMCG COMPANY
---
The ELECTRIC journey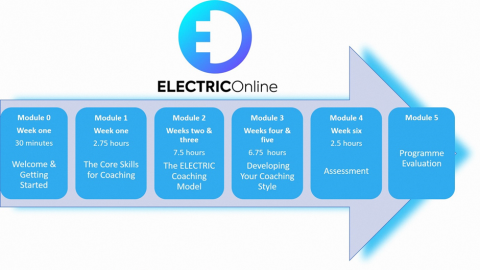 The learning experience is split into 14 hours of flexible online study and 6 hours of practice. The learner practises using a coaching style in their everyday workplace conversations, using the three essential core skills of: listening, asking questions and giving feedback, together with the ELECTRIC framework.
Practice your coaching skills in 'real life' situations in your work place
Easy-to-follow modules designed around the core coaching competencies
Professional qualified coaches provide on-hand tutoring
Everything in one place, no additional reading
Be ready to make a significant impact in just 20 hours
Fit in around your time and your schedule
Fun, engaging learning style includes videos of 'how to' and 'how not to' coach.
The assessment process is straightforward and again, all online. – It comprises a set of questions, which are linked to the core Learning Outcomes and the uploading of a second audio (15 minutes long) of one of the learner's workplace coaching style conversations.
I would say don't underestimate how much fun it is to do this - in the peer conversations and group learning we had fun and got some really good peer support going. The programme is straightforward and concise. It's accessible as a result and very user friendly.

Jill Colbert, Recent ELECTRIC Graduate
---
Would you like a tailored ELECTRIC programme or face-to-face workshops?
We are able to incorporate additional modules and content to supplement the core ELECTRIC programme.  This often includes introductory webinars and content to help participants use the core skills in their unique context.  
We also offer face-to-face learning as an alternative to the wholly online version – achieving the same learning outcomes and with the same high quality content, delivered in person for cohorts of 6 or more.
The framework then encourages commitment to review specific actions over time to ensure the discussion leaves a pragmatic and lasting legacy – delivering a sought after change for the better.

SENIOR MANAGER, GLOBAL ENGINEERING COMPANY
---
Developing High Impact Business Partners
At The OCM we have a long track record of developing Business Partners through 1:1 coaching and skills training.  We know it can be a hard role to do.  There's always a balance of 'enabling' and 'safeguarding' – and the Line do not always appreciate what Business Partners can offer.  It is a rewarding and impactful role, but without support, can sometimes feel like a thankless task, where needs and complaints are expressed loudly, and praise and recognition are thin on the ground.
We have developed a programme specifically for Business Partners which helps build the essential skills and competencies needed to thrive and to deliver on what the Line needs.
---
We also offer a range of workshops for line leaders and professionals.  These can be delivered as one-off interventions or as part of a broader development programme. 
Topics include:
Effective influencing and negotiation
Purposeful conversations
Dealing with conflict
Hiring Successfully
The Art of influencing and negotiation
Leading with impact
Managing conflict
The leader as coach and mentor
Managing Difficult Conversations
Leadership presence and influence
Financial awareness
These can be tailored to your specific context – contact us to find out more.
---
BESPOKE COACHING/MENTORING SKILLS PROGRAMMES
Can be designed to meet very specific organisational challenges including:
Supporting Change
Increasing engagement/accountability/productivity/creativity
Leadership development
Strategy enablement
Vary in content, structure and delivery format depending on need
Can form part of wider strategic project or standalone project
Always includes ROI criteria and measurement/review processes.
---
A short, practice orientated mentoring skills development programme
Ideal for anyone who wants to be a mentor or is involved with internal mentoring programmes
Accredited by the EMCC at Foundation level
Delivered in house in groups of 6, 9 or 12
Off-the-shelf but can be customised to meet specific organisational requirements.
---