Developing a coaching style that improves individual and team performance
ELECTRIC Online® is designed to develop a leader's capability to have powerful coaching style conversations in the workplace. Our short course is essential for any leader, manager or people focused professional who wants to use coaching skills in a pragmatic, authentic way to improve performance, engagement and collaboration in the people around them.
ELECTRIC Online® is a wholly digital, engaging, high impact and supportive 20-hour programme (spread over six weeks). Our highly regarded ELECTRIC model is animated, and the course includes videos of real coaches with real clients. Candidates are assigned a personal, real-life OCM assessor who checks their progress, listens and gives valuable feedback. Plus, we've created a simple assessment process.
"I learnt the ELECTRIC model and it really was a revelation. The power of the model has proven itself right from my first coaching session. There is a good balance between e-learning, videos & activities." ELECTRIC Online® Learner April 2020
Contact us to request more information on how ELECTRIC Online® can help you, your team and your business.
Learning outcomes
Participants completing the programme will:
Demonstrate enhanced coaching skills of listening, asking insightful questions and giving challenging feedback to create high impact one-to-one coaching conversations that provide insight, learning and growth.
Be able to structure a coaching conversation using our proprietary ELECTRIC Coaching® framework appropriately and to good effect.
Lead high quality team meetings by applying a selection of coaching approaches for teams and groups.
Create rapport and trust in workplace coaching conversations.
Reflect for personal growth and assist others in reflection for their development.
Use a development planning approach for themselves and to assist others to grow.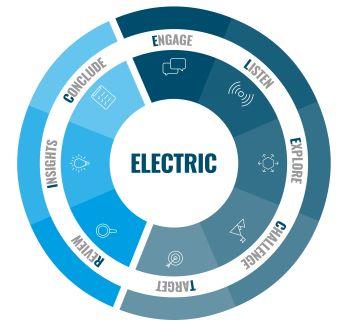 How long: 20 hours over 6 weeks 
For: Anyone who wishes to develop coaching skills to have high impact conversations that provide insight, learning and growth.
Where: Completely online delivery, learn anywhere at any time
Accreditation: EMCC Foundation Level
Cost: £950 + VAT for corporate clients or £825 for privately funded individuals, public or third sector clients
---
Is this the right for you and your organisation?
Why not book a call with our Chief Executive to find out which service is right for you?
Our Chief Exec, Ed Parsloe, is passionate about partnering with organisations to deliver creative and pragmatic coaching and mentoring services. He will help you understand what the right approach is for you and enable you to make an informed choice.
To arrange a call simply email him directly.
"The methodology is very clear so one very quickly feels comfortable… … I now unconsciously use it almost all of the time" ELECTRIC Online® Learner April 2020
---
In ELECTRIC Online® there are 3 methods of assessment: -
Reviewing a 15-minute audio recording of a coaching conversation that the participant has uploaded, to hear their core skills and the use of the ELECTRIC framework which they have learnt.
Reviewing their completed 14 hours of Pathway activities across the 3 modules, and their coaching logs to show they have had at least 6 hours of coaching style conversations in the workplace.
Finally reading their answers to 16 questions (2 for each Learning Outcome which map against the 8 EMCC competences) maximum of 200 words per question.
---
How do I book and what fees do I pay?
Please talk to us about a purchase for your team or organisation, we'd be happy to help, or you can book online either by credit card or requesting an invoice.
To make coaching and mentoring more accessible for those with less resources, we charge different rates for corporate clients and those who are privately funded.
For us this means people who work for publicly listed or limited companies pay the corporate rate and self-funding individuals, anyone in the Public sector or anyone in the Third sector pay the privately funded rate.
Please respect our values and select the right price for you.
We're here to help!
Contact us if you'd like to discuss one of our courses or workshops in more detail. Our team of expert advisers will discuss your needs to make sure you select the right approach for you.